Normalising community-led, empowered, disaster planning: Reshaping norms of power and knowledge
Keywords:
Disasters, Australia, normalisation, shared responsibility, desastres, normalización, responsabilidad compartida
Abstract
Disasters (and the dynamics that proceed and follow them) are inherently disruptive of customary routines and taken for granted ordinariness. Many fear that in the context of climate change disasters will become "the new norm". How we prepare for, respond to, and recover from disasters provide a rich terrain for exploring "normality" and interrogating normalising processes. In this article we draw on insights from empirical research on policy efforts in disaster preparedness in New South Wales, Australia. This research suggests that understandings of "the norm" is a site of contestation. This discursive debate is most evident in policy and practice prescriptions for "shared responsibility". International and national policy is shifting responsibility for disaster preparedness away from institutions of the State to the individual within the local community. In practice, we see this shift simultaneously resisted and embraced with "norms" in disasters reshaped in multiple sites and in multiple directions. The paper concludes that engagement in complex debates offers the possibility to disrupt traditional pattens and normalise community-led, empowered, responses to disasters.
Los desastres (y las dinámicas que los siguen) son intrínsecamente disruptivos de las rutinas habituales y se da por hecho su carácter ordinario. Se teme que, en el contexto del cambio climático, los desastres se conviertan en "la nueva norma". La forma en que nos preparamos, respondemos y nos recuperamos de los desastres proporciona un rico terreno para explorar la "normalidad" y preguntarnos por los procesos de normalización. En este artículo nos basamos en las ideas resultantes de una investigación empírica sobre los esfuerzos políticos para la preparación para desastres en Nueva Gales del Sur, Australia. Se sugiere que la comprensión de "la norma" es un lugar de contestación. Ese debate discursivo es evidente, sobre todo, en las prescripciones de políticas y prácticas para la "responsabilidad compartida". La política internacional y nacional están transfiriendo la responsabilidad de la preparación para desastres de las instituciones del Estado al individuo de la sociedad local. En la práctica, vemos este cambio simultáneamente resistido y adoptado con "normas" en desastres remodelados en múltiples sitios y en múltiples direcciones. El artículo concluye que la participación en debates complejos ofrece la posibilidad de interrumpir los patrones tradicionales y normalizar las respuestas a los desastres, lideradas por una sociedad empoderada.
Available from: https://doi.org/10.35295/osls.iisl/0000-0000-0000-1258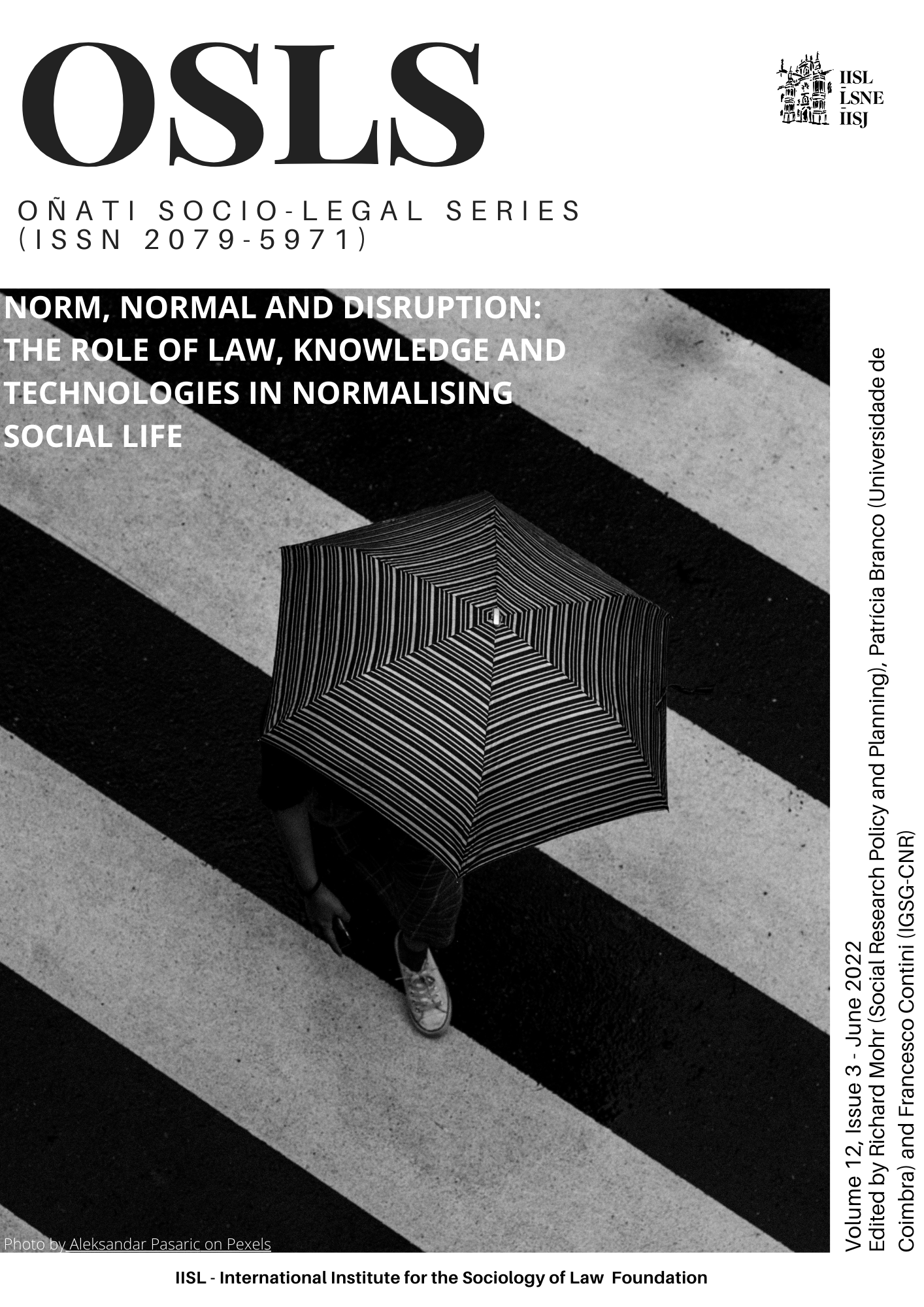 Published
27-01-2022 — Updated on 01-06-2022
How to Cite
Rawsthorne, M., Howard, A. and Joseph, P. (2022) "Normalising community-led, empowered, disaster planning: Reshaping norms of power and knowledge", Oñati Socio-Legal Series, 12(3), pp. 506–521. Available at: https://opo.iisj.net/index.php/osls/article/view/1364 (Accessed: 5 October 2022).
License
Copyright (c) 2022 Margot Rawsthorne, Amanda Howard, Pam Joseph
This work is licensed under a Creative Commons Attribution-NonCommercial-NoDerivatives 4.0 International License.
OSLS strictly respects intellectual property rights and it is our policy that the author retains copyright, and articles are made available under a Creative Commons licence. The Creative Commons Non-Commercial Attribution No-Derivatives licence is our default licence, further details available at https://creativecommons.org/licenses/by-nc-nd/4.0 If this is not acceptable to you, please contact us.
The non-exclusive permission you grant to us includes the rights to disseminate the bibliographic details of the article, including the abstract supplied by you, and to authorise others, including bibliographic databases, indexing and contents alerting services, to copy and communicate these details.
For information on how to share and store your own article at each stage of production from submission to final publication, please read our Self-Archiving and Sharing policy.
The Copyright Notice showing the author and co-authors, and the Creative Commons license will be displayed on the article, and you must agree to this as part of the submission process. Please ensure that all co-authors are properly attributed and that they understand and accept these terms.