Extrema indiferencia: La población extranjera en las cárceles chilenas
(Extreme indifference: Foreigners in Chilean prisons)
Keywords:
Castigo, extranjeros, legitimidad, cárcel, punishment, foreigners, legitimacy, prison
Abstract
El castigo estatal constituye una práctica que solo puede aspirar a ser legítima si tiene lugar en el contexto de una relación política mínimamente justa. De ahí que en la literatura se han identificado dificultades para justificar el castigo de quienes se encuentran en los márgenes de la relación política, como ocurre con los extranjeros. Para identificar con mayor precisión los desafíos de legitimidad de nuestras prácticas penales frente a la población extranjera, este artículo propone una aproximación normativa y luego describe e identifica los principales déficits de legitimidad que existen en el ámbito del encarcelamiento de población extranjera en Chile. El trabajo sostiene que existe un alto déficit de legitimidad que se configura por una serie de espacios en los que nuestras instituciones penales muestran extrema indiferencia frente a las necesidades y afecciones particulares de este grupo.
State punishment can only aspire to be a legitimate practice if it takes place within a fair political arrangement. As a consequence, some scholars have identified obstacles to justify punishment to those who are in the margins of the political relationship, such as foreigners. With the aim of identifying more precisely what these obstacles are in the specific case of foreigners, this article offers both a normative approach to the issue of punishing foreigners, and a description of the current situation of foreigners imprisoned in Chile. We argue that the Chilean prison system has high levels of illegitimacy in this regard, as it shows extreme indifference over the specific needs and pains of foreign prisoners.
Available from: https://doi.org/10.35295/osls.iisl/0000-0000-0000-1217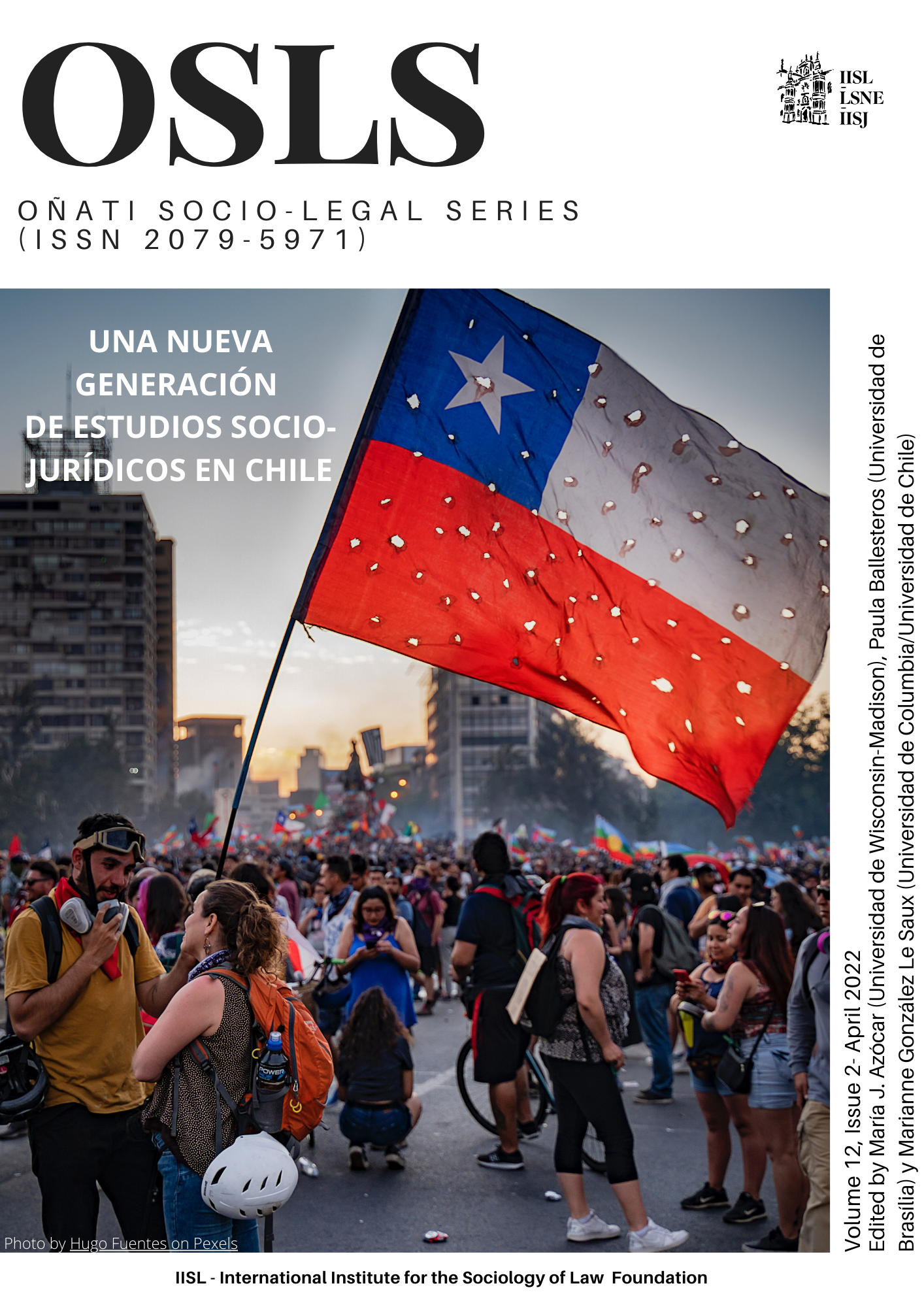 Published
10-09-2021 — Updated on 01-04-2022
How to Cite
Lorca, R., Rochow, D. and Purán, V. (2022) "Extrema indiferencia: La población extranjera en las cárceles chilenas: (Extreme indifference: Foreigners in Chilean prisons)", Oñati Socio-Legal Series, 12(2), pp. 328–353. Available at: https://opo.iisj.net/index.php/osls/article/view/1347 (Accessed: 4 July 2022).
Section
Thematic Articles
License
Copyright (c) 2021 Rocio Lorca, Diego Rochow, Violeta Purán
This work is licensed under a Creative Commons Attribution-NonCommercial-NoDerivatives 4.0 International License.
OSLS strictly respects intellectual property rights and it is our policy that the author retains copyright, and articles are made available under a Creative Commons licence. The Creative Commons Non-Commercial Attribution No-Derivatives licence is our default licence, further details available at https://creativecommons.org/licenses/by-nc-nd/4.0 If this is not acceptable to you, please contact us.
The non-exclusive permission you grant to us includes the rights to disseminate the bibliographic details of the article, including the abstract supplied by you, and to authorise others, including bibliographic databases, indexing and contents alerting services, to copy and communicate these details.
For information on how to share and store your own article at each stage of production from submission to final publication, please read our Self-Archiving and Sharing policy.
The Copyright Notice showing the author and co-authors, and the Creative Commons license will be displayed on the article, and you must agree to this as part of the submission process. Please ensure that all co-authors are properly attributed and that they understand and accept these terms.