"Places you shouldn't go to": (Im)mobility, violence and democracy in Brazil and South Africa
Keywords:
violence, mobility, social inequalities, violencia, movilidad, desigualdades sociales
Abstract
Pursuing the broader political effects of the relationship between violence, mobility, and inequality, the article describes some of the grounded political-economies (re)producing social inequalities in Brazil and South Africa, and a discontinuous experience of the urban space. This fragmented spatial experience is produced by the simultaneous operation of a discursive apparatus projecting a split ideal of "city", and grounded social mechanics, in the intersection of values and power relations. In Johannesburg, South Africa, we've described the creation of Maboneng, a "urban development project", to highlight the role of social mobility and growing class aspirations as powerful political vehicles for neoliberal markets reissuing old apartheid socio-spatial divisions. In Rio de Janeiro, Brazil, we've explored the relationship between the State and its margins to understand the production of the milícia as a violent anti-modern capitalist venture, aiming to control the circulation of people, capital and political support in the city.
Siguiendo los efectos políticos más amplios de la relación entre violencia, movilidad y desigualdad, el artículo describe la forma en que algunas políticas económicas arraigadas (re)producen desigualdades sociales en Brasil y Sudáfrica, una experiencia discontinua del espacio urbano. Esta experiencia espacial fragmentada es producto de la operación simultánea de un aparato discursivo que proyecta un ideal escindido de "ciudad" y mecanismos sociales arraigados, en una intersección de valores y relaciones de poder. En Johannesburgo, Sudáfrica, describimos la creación de Maboneng, un "proyecto de desarrollo urbano", para destacar el rol de la movilidad social y de las crecientes aspiraciones de clase como potentes vehículos políticos para que los mercados neoliberales reediten viejas divisiones socio-espaciales del apartheid. En Río de Janeiro, Brasil, analizamos la relación entre el Estado y sus márgenes a fin de entender la producción de la milícia como riesgo capitalista antimoderno violento que tiene el propósito de controlar la circulación de personas, capital y apoyo político.
Available from: https://doi.org/10.35295/osls.iisl/0000-0000-0000-1221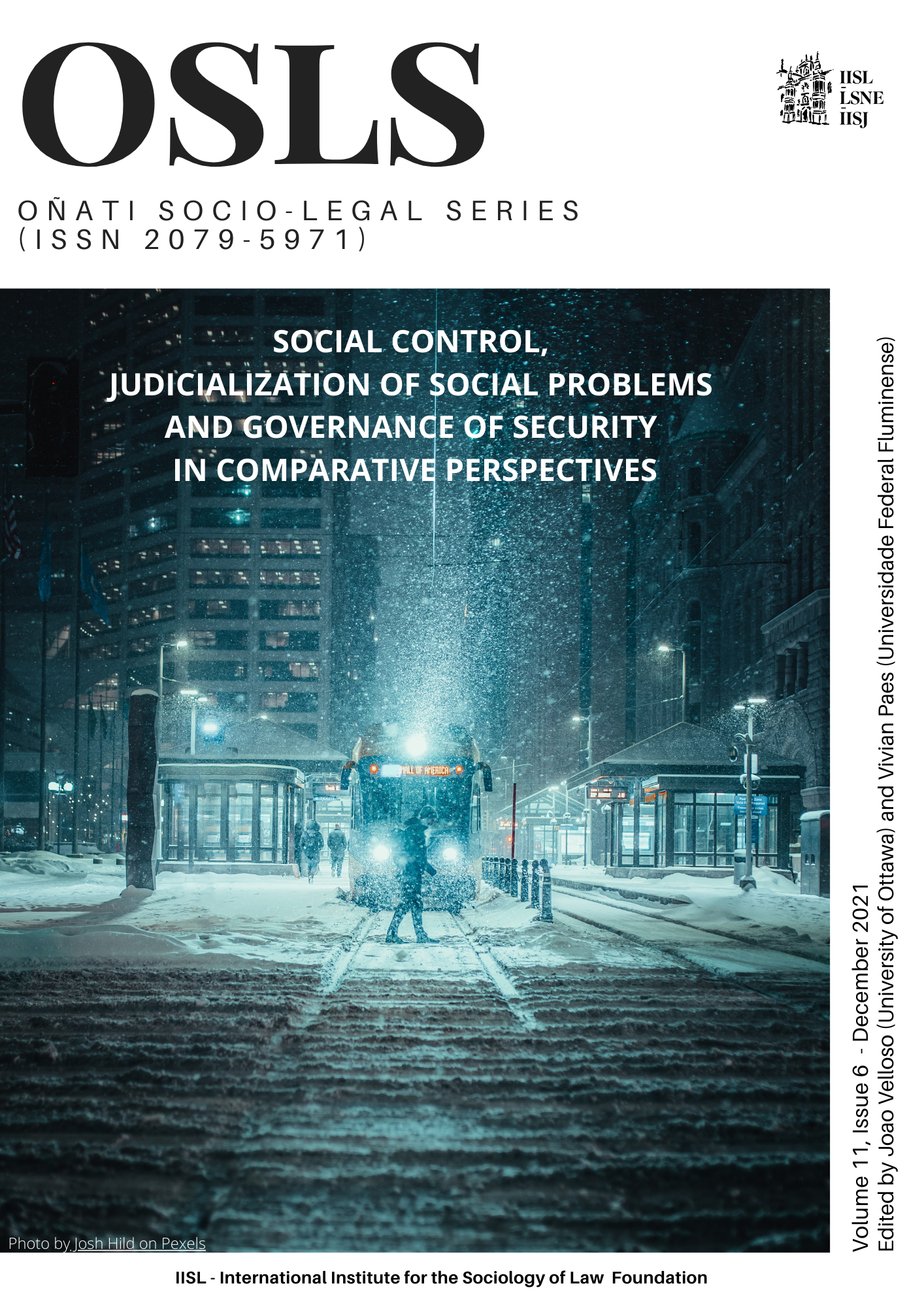 How to Cite
Albernaz, E. R. and Pires, L. (2021) "'Places you shouldn't go to': (Im)mobility, violence and democracy in Brazil and South Africa", Oñati Socio-Legal Series, 11(6), pp. 1365–1391. Available at: https://opo.iisj.net/index.php/osls/article/view/1333 (Accessed: 30 November 2022).
Section
Thematic Articles
License
Copyright (c) 2021 Elizabete Ribeiro Albernaz, Lenin Pires
This work is licensed under a Creative Commons Attribution-NonCommercial-NoDerivatives 4.0 International License.
OSLS strictly respects intellectual property rights and it is our policy that the author retains copyright, and articles are made available under a Creative Commons licence. The Creative Commons Non-Commercial Attribution No-Derivatives licence is our default licence, further details available at https://creativecommons.org/licenses/by-nc-nd/4.0 If this is not acceptable to you, please contact us.
The non-exclusive permission you grant to us includes the rights to disseminate the bibliographic details of the article, including the abstract supplied by you, and to authorise others, including bibliographic databases, indexing and contents alerting services, to copy and communicate these details.
For information on how to share and store your own article at each stage of production from submission to final publication, please read our Self-Archiving and Sharing policy.
The Copyright Notice showing the author and co-authors, and the Creative Commons license will be displayed on the article, and you must agree to this as part of the submission process. Please ensure that all co-authors are properly attributed and that they understand and accept these terms.