Combating (child) human trafficking: A challenge between repression tools and detection of vulnerability
Keywords:
Child human trafficking, vulnerability, children's rights, sexual exploitation, crime, institutional actors, social actors, tráfico de menores, derechos de los niños, explotación sexual, crimen, actores institucionales, actores sociales
Abstract
The aim of this article is to reconceptualise the notion of child trafficking by seeking to understand child vulnerability and agency. The research approach focuses on criminal judgements pronounced in Italian courts and assesses how institutional interpretations support perceptions of vulnerability or agency that are often promoted or defined by criminal law perspectives. The attempt is to investigate human trafficking both as a multifaceted phenomenon and as a process to link together the functioning of elements of the human trafficking system that as a prism assumes different shapes in a growing complexity.
El objetivo de este artículo es reconceptualizar la noción de tráfico de menores, por medio de la comprensión de la vulnerabilidad y agencia de los niños. El enfoque investigativo se centra en sentencias penales de juzgados italianos, y valora cómo las interpretaciones institucionales apoyan las percepciones de vulnerabilidad o agencia que son frecuentemente promovidas o definidas por perspectivas de derecho penal. Se intenta investigar el tráfico de personas tanto en su faceta de fenómeno polifacético como en cuanto proceso que une el funcionamiento de los elementos del sistema de tráfico de personas, que, como un prisma, adquiere diferentes formas de creciente complejidad.
Available from: https://doi.org/10.35295/osls.iisl/0000-0000-0000-1206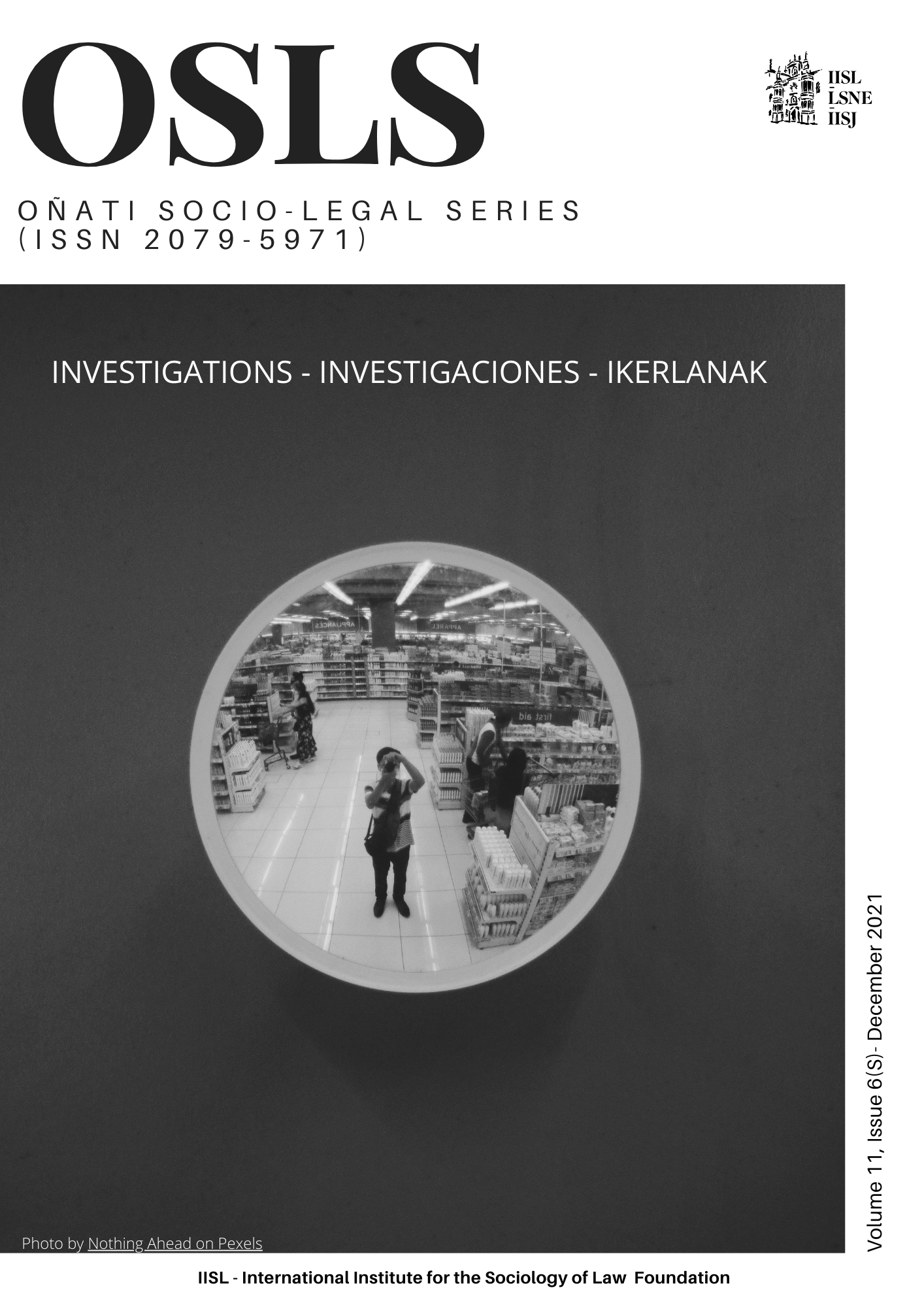 Published
28-06-2021 — Updated on 22-12-2021
How to Cite
De Felice, D. (2021) "Combating (child) human trafficking: A challenge between repression tools and detection of vulnerability", Oñati Socio-Legal Series, 11(6(S), pp. S323-S351. Available at: https://opo.iisj.net/index.php/osls/article/view/1332 (Accessed: 10 August 2022).
Section
Individual Articles
License
Copyright (c) 2021 Deborah De Felice
This work is licensed under a Creative Commons Attribution-NonCommercial-NoDerivatives 4.0 International License.
OSLS strictly respects intellectual property rights and it is our policy that the author retains copyright, and articles are made available under a Creative Commons licence. The Creative Commons Non-Commercial Attribution No-Derivatives licence is our default licence, further details available at https://creativecommons.org/licenses/by-nc-nd/4.0 If this is not acceptable to you, please contact us.
The non-exclusive permission you grant to us includes the rights to disseminate the bibliographic details of the article, including the abstract supplied by you, and to authorise others, including bibliographic databases, indexing and contents alerting services, to copy and communicate these details.
For information on how to share and store your own article at each stage of production from submission to final publication, please read our Self-Archiving and Sharing policy.
The Copyright Notice showing the author and co-authors, and the Creative Commons license will be displayed on the article, and you must agree to this as part of the submission process. Please ensure that all co-authors are properly attributed and that they understand and accept these terms.