A cidadania europeia como instrumento de proteção da vulnerabilidade
(European citizenship as an instrument to protect vulnerability)
Keywords:
cidadania europeia, direitos fundamentais, vulnerabilidade, European citizenship, fundamental rights, vulnerability
Abstract
A criação da cidadania europeia pelo Tratado de Maastricht não foi recebida com entusiasmo. Os direitos que conferia eram essencialmente os que já vigoravam na Comunidade Europeia. A jurisprudência do TJ deu substância à cidadania europeia, qualificando-a como "o estatuto fundamental dos nacionais dos Estados-membros". A interpretação do TJ modelou este novo estatuto e os respetivos direitos, tornando-o num instrumento para proteger os migrantes nacionais dos Estados-Membros, especialmente importante para indivíduos em situação vulnerável: v.g. deficientes, homossexuais, até estudantes deslocados, acolhendo no exercício hermenêutico judicial um conceito amplo de vulnerabilidade (Fineman 2010), quer estrutural e permanente, quer individual ou conjuntural; no que respeita às crianças, a vulnerabilidade justificou a extensão da proteção aos progenitores. A análise seguinte percorre alguns dos "leading cases" da cidadania da União, focando o alcance protetor desse estatuto no contexto da situação concreta "sub judice".
The creation of European citizenship by the Maastricht Treaty was not enthusiastically received. The rights it conferred were essentially those already in force in the European Community. The case law of the ECJ gave substance to European citizenship, describing it as "the fundamental status of nationals of the Member States". The interpretation of the ECJ shaped this new status and its rights, making it an instrument to protect migrant nationals of Member States, especially important for individuals in vulnerable situations: e.g. disabled people, homosexuals, even displaced students, welcoming in the judicial hermeneutic exercise a broad concept of vulnerability (Fineman 2010), whether structural and permanent, or individual or conjunctural; with regard to children, vulnerability justified the extension of protection to parents. The following analysis goes through some of the "leading cases" of Union citizenship, focusing on the protective scope of that status in the context of the concrete situation "sub judice".
Available from: https://doi.org/10.35295/osls.iisl/0000-0000-0000-1205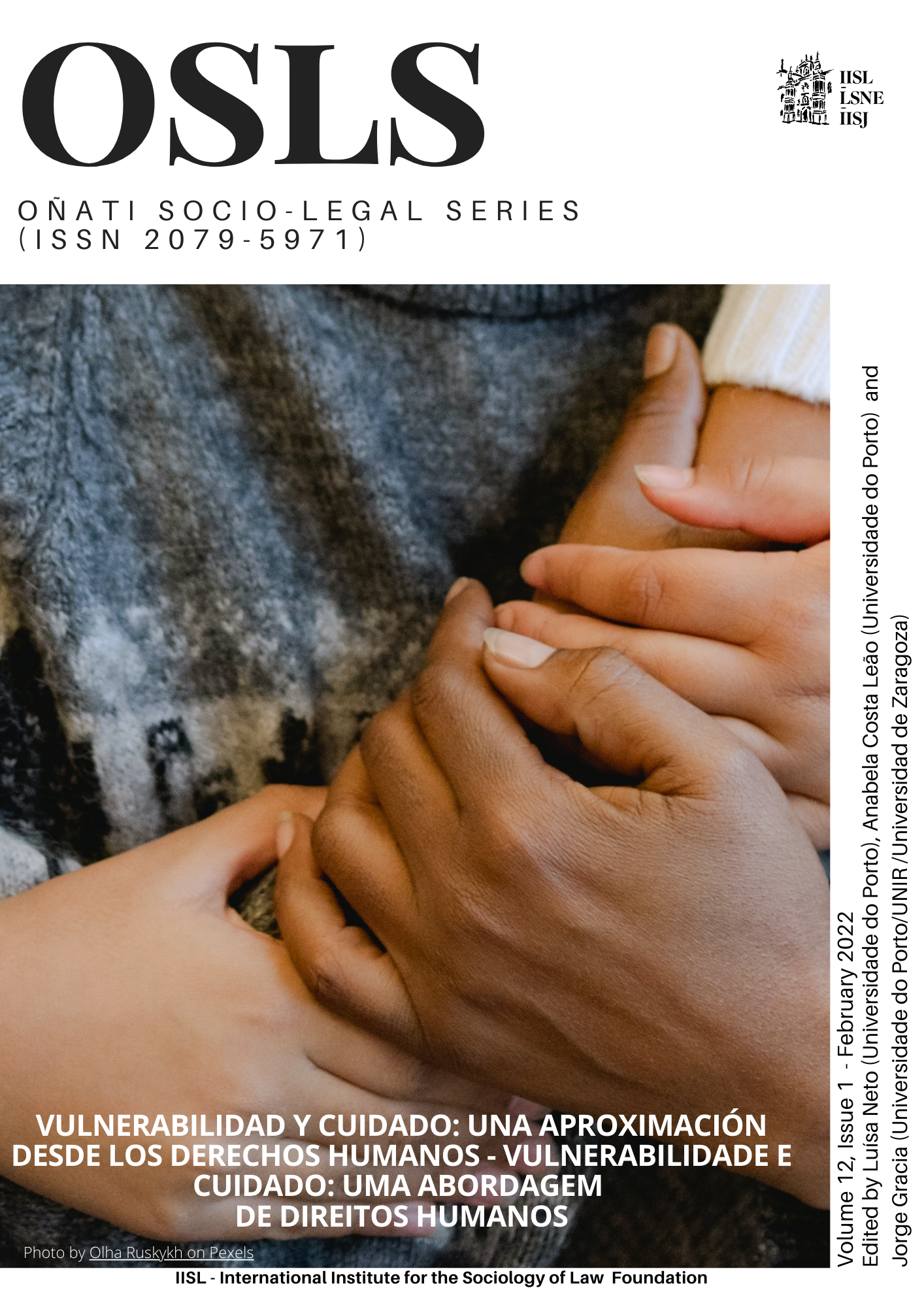 Downloads
Published
28-06-2021 — Updated on 01-02-2022
How to Cite
Enes, G. (2022) "A cidadania europeia como instrumento de proteção da vulnerabilidade: (European citizenship as an instrument to protect vulnerability)", Oñati Socio-Legal Series, 12(1), pp. 108–137. Available at: https://opo.iisj.net/index.php/osls/article/view/1327 (Accessed: 7 December 2023).
License
Copyright (c) 2021 Graça Enes
This work is licensed under a Creative Commons Attribution-NonCommercial-NoDerivatives 4.0 International License.
OSLS strictly respects intellectual property rights and it is our policy that the author retains copyright, and articles are made available under a Creative Commons licence. The Creative Commons Non-Commercial Attribution No-Derivatives licence is our default licence, further details available at https://creativecommons.org/licenses/by-nc-nd/4.0 If this is not acceptable to you, please contact us.
The non-exclusive permission you grant to us includes the rights to disseminate the bibliographic details of the article, including the abstract supplied by you, and to authorise others, including bibliographic databases, indexing and contents alerting services, to copy and communicate these details.
For information on how to share and store your own article at each stage of production from submission to final publication, please read our Self-Archiving and Sharing policy.
The Copyright Notice showing the author and co-authors, and the Creative Commons license will be displayed on the article, and you must agree to this as part of the submission process. Please ensure that all co-authors are properly attributed and that they understand and accept these terms.