Introducción: Vulnerabilidad y cuidado. Una aproximación desde los derechos humanos
(Introduction: Vulnerability and caregiving. A human rights approach)
Keywords:
vulnerabilidad, cuidados, igualdad, derechos, vulnerability, care, equality, rights
Abstract
El conjunto de trabajos que se presenta e introduce refleja el diálogo establecido entre tres conceptos que se encuentran estrechamente relacionados (vulnerabilidad, cuidado y derechos) en el workshop del mismo título celebrado online en 2020. Partiendo de un entendimiento de la vulnerabilidad como un fenómeno transversal y universal, varios de los trabajos reflexionan acerca de la misma naturaleza del concepto y desde el punto de vista del papel del Estado y del derecho a la hora de afrontar los efectos negativos de la misma. Junto con la vulnerabilidad, el otro eje de los trabajos es el del cuidado, tanto en sus dimensiones éticas y política como desde una perspectiva de género. Todo ello desde una visión Ibérica (relacionada con el tratamiento constitucional y algunos aspectos legales en España y Portugal), pero que abarca también la perspectiva europea y, en un sentido más amplio, la relacionada con los derechos humanos.
The set of papers presented and introduced here reflects the dialogue established between three closely related concepts (vulnerability, care and rights) at the workshop of the same title held online in 2020. Starting from an understanding of vulnerability as a cross-cutting and universal phenomenon, several of the papers reflect on the very nature of the concept and from the point of view of the role of the state and the law in addressing the negative effects of vulnerability. Along with vulnerability, the other axis of the papers is that of care, both in its ethical and political dimensions and from a gender perspective. All of this from an Iberian perspective (related to the constitutional treatment and some legal aspects in Spain and Portugal), but which also encompasses the European perspective, and, in a broader sense, that related to human rights.
Available from: https://doi.org/10.35295/osls.iisl/0000-0000-0000-1259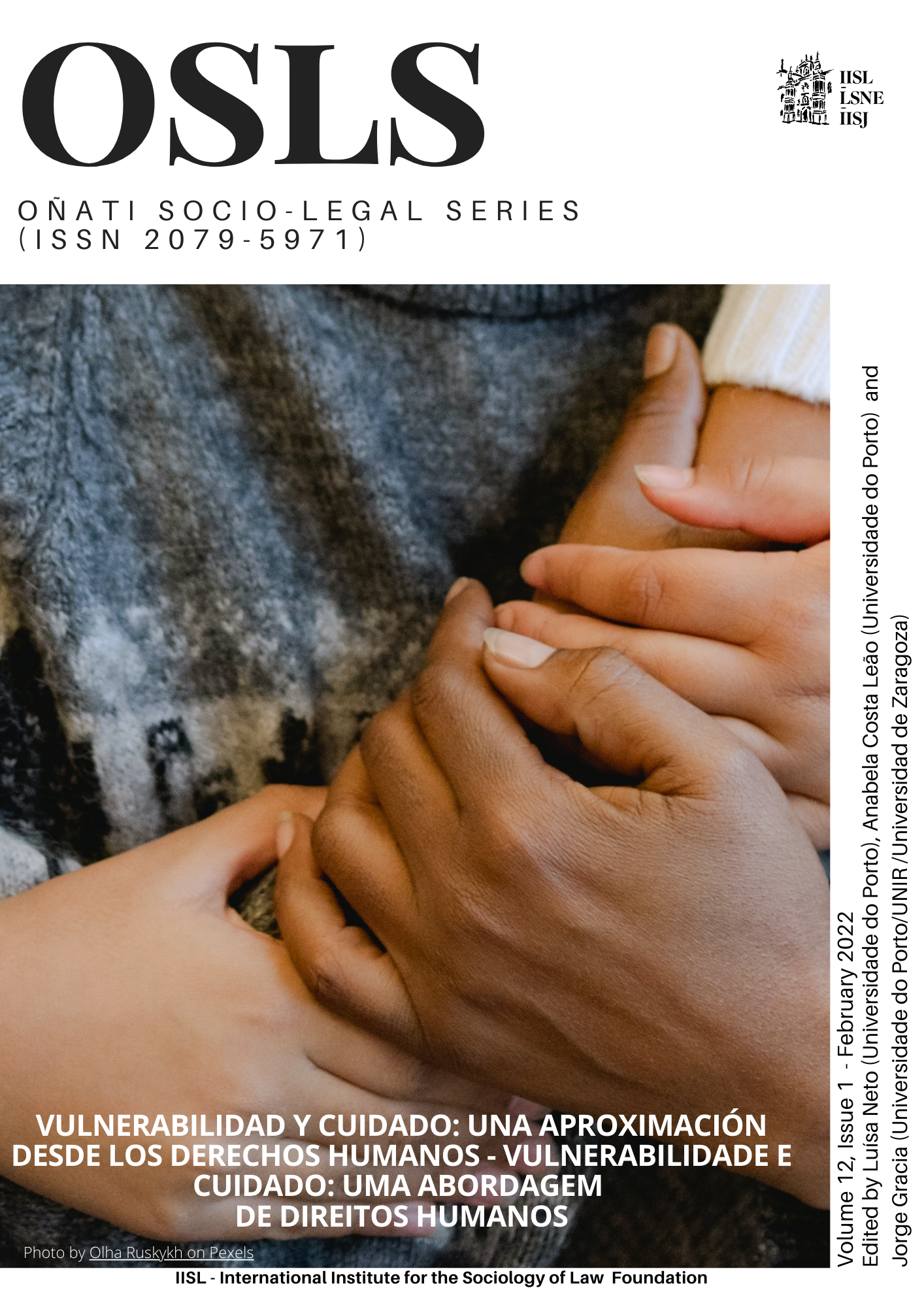 How to Cite
Neto, L., Leão, A. C. and Gracia, J. (2022) "Introducción: Vulnerabilidad y cuidado. Una aproximación desde los derechos humanos: (Introduction: Vulnerability and caregiving. A human rights approach)", Oñati Socio-Legal Series, 12(1), pp. 1–5. Available at: https://opo.iisj.net/index.php/osls/article/view/1321 (Accessed: 7 December 2023).
License
Copyright (c) 2022 Luísa Neto, Anabela Costa Leão, Jorge Gracia
This work is licensed under a Creative Commons Attribution-NonCommercial-NoDerivatives 4.0 International License.
OSLS strictly respects intellectual property rights and it is our policy that the author retains copyright, and articles are made available under a Creative Commons licence. The Creative Commons Non-Commercial Attribution No-Derivatives licence is our default licence, further details available at https://creativecommons.org/licenses/by-nc-nd/4.0 If this is not acceptable to you, please contact us.
The non-exclusive permission you grant to us includes the rights to disseminate the bibliographic details of the article, including the abstract supplied by you, and to authorise others, including bibliographic databases, indexing and contents alerting services, to copy and communicate these details.
For information on how to share and store your own article at each stage of production from submission to final publication, please read our Self-Archiving and Sharing policy.
The Copyright Notice showing the author and co-authors, and the Creative Commons license will be displayed on the article, and you must agree to this as part of the submission process. Please ensure that all co-authors are properly attributed and that they understand and accept these terms.