Conceptualising strategic litigation
Keywords:
Strategic litigation, conceptualisation, definition, legal mobilisation, database research, litigio estratégico, conceptualización, definición, movilización jurídica, investigación de bases de datos
Abstract
This article conceptualises the term "strategic litigation" in order to provide for a definition of it. Strategic litigation is a tool increasingly used in Europe by individuals and organisations to attain different objectives. Next to that, there is increasing academic attention for the topic. Nevertheless, the exact definition of "strategic litigation" remains unclear. Therefore, this article uses the research method of conceptualisation as well as a database research and additional literature to provide for a definition. It looks firstly at the background concept, involving the range of meanings associated with the term "strategic litigation", after which a systematised concept is formed. Thereby, use is made of the "necessary and sufficient conditions" (NSC) approach, to develop the conditions necessary and/or sufficient for a case to fit within the category of strategic litigation. Moreover, the external conceptual relations of the term are explored.
Este artículo conceptualiza el término "litigio estratégico" para proporcionar una definición. El litigio estratégico es un instrumento cada vez más usado en Europa por parte de personas y organizaciones para conseguir diversos objetivos, y hay un interés académico creciente por el tema. Sin embargo, la definición exacta de "litigio estratégico" sigue siendo poco clara. Por tanto, el artículo emplea el método de investigación de la conceptualización junto con una investigación de bases de datos y literatura adicional, y propone una definición. En primer lugar, se fija en el concepto de fondo, que incluye el abanico de significados relacionados con el término "litigio estratégico"; a continuación, se forma un concepto sistemático. De este modo, se parte del enfoque de "condiciones necesarias y suficientes" (CNS) para desarrollar las condiciones necesarias y/o suficientes para que un caso encaje en la categoría de litigio estratégico. Por añadidura, se examinan las relaciones conceptuales externas del término.
Available from: https://doi.org/10.35295/osls.iisl/0000-0000-0000-1226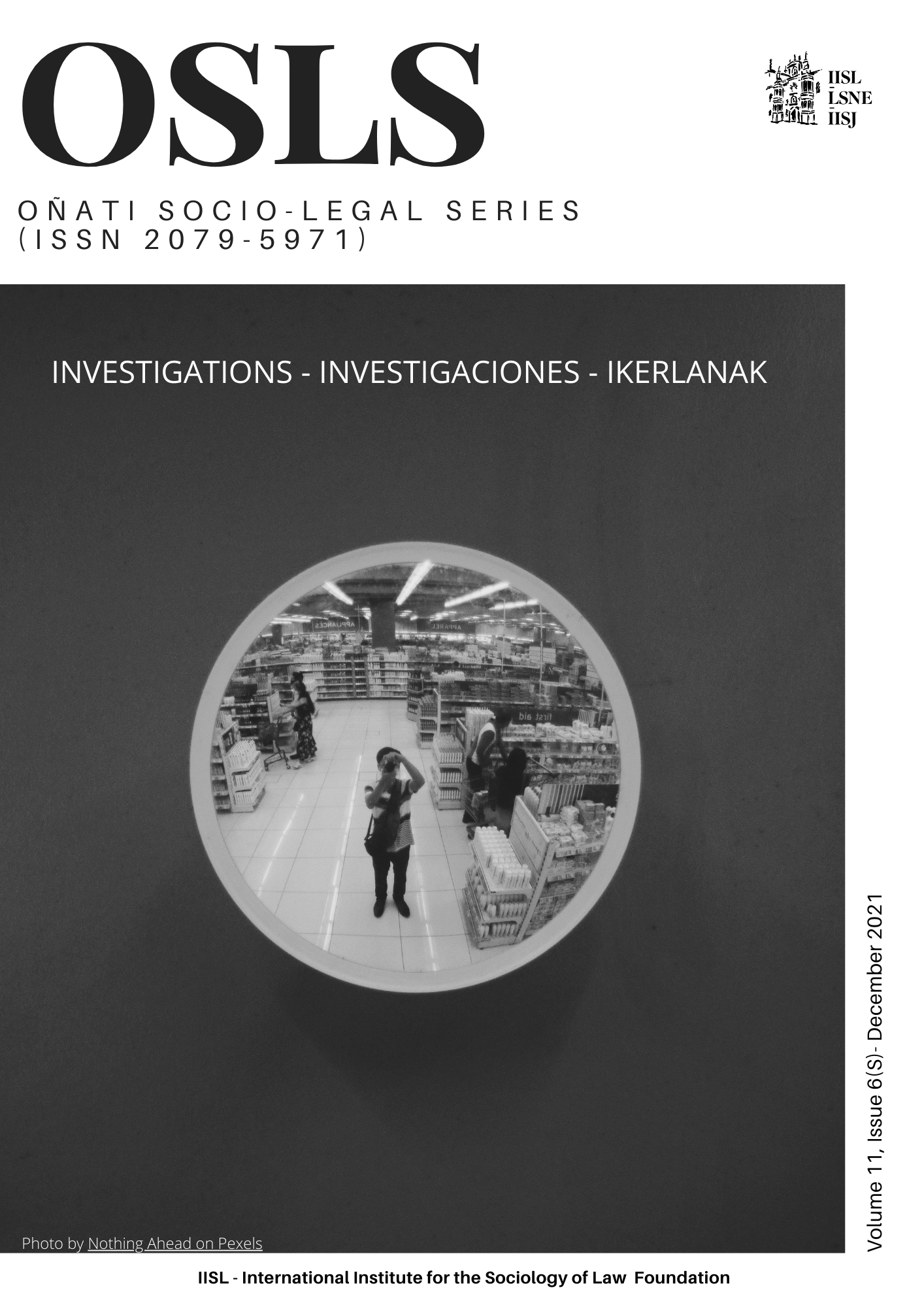 Published
30-09-2021 — Updated on 22-12-2021
How to Cite
van der Pas, K. (2021) "Conceptualising strategic litigation", Oñati Socio-Legal Series, 11(6(S), pp. S116-S145. Available at: https://opo.iisj.net/index.php/osls/article/view/1315 (Accessed: 1 October 2023).
Section
Individual Articles
License
Copyright (c) 2021 Kris van der Pas
This work is licensed under a Creative Commons Attribution-NonCommercial-NoDerivatives 4.0 International License.
OSLS strictly respects intellectual property rights and it is our policy that the author retains copyright, and articles are made available under a Creative Commons licence. The Creative Commons Non-Commercial Attribution No-Derivatives licence is our default licence, further details available at https://creativecommons.org/licenses/by-nc-nd/4.0 If this is not acceptable to you, please contact us.
The non-exclusive permission you grant to us includes the rights to disseminate the bibliographic details of the article, including the abstract supplied by you, and to authorise others, including bibliographic databases, indexing and contents alerting services, to copy and communicate these details.
For information on how to share and store your own article at each stage of production from submission to final publication, please read our Self-Archiving and Sharing policy.
The Copyright Notice showing the author and co-authors, and the Creative Commons license will be displayed on the article, and you must agree to this as part of the submission process. Please ensure that all co-authors are properly attributed and that they understand and accept these terms.