Migrant vulnerability or asylum seeker/refugee vulnerability? More than complex categories
Keywords:
Vulnerability, migrants, refugees, legal categories, intersectionality, vulnerabilidad, migrantes, refugiados, categorías jurídicas, interseccionalidad
Abstract
The current theoretical socio-legal approach to vulnerability and vulnerable individuals, groups and populations is complex and wide-ranging. Unlike other traditional categories of "vulnerable groups", the specific dimensions of migrant vulnerability raise issues that have not been properly resolved by laws, policies or judicial interpretation. This paper seeks to review and explain the reasons for the black-and-white legal categorical distinction between two types of people who migrate: "voluntary" migrants (economic, undocumented), and forced migrants (asylum seekers, refugees), based on their presumed internal or external "vulnerability". It also reviews European asylum law to analyse the complex classification of asylum seeker/refugee vulnerability. This can help explain why some "particularly vulnerable categories" in compounded situations of intersectional vulnerability risk falling between the cracks. There is an urgent need to reassess the bivalent categories and the compact dimensions of migrant vulnerability, in order to find balanced internal coherence in the regulations that manage heterogeneous migration processes.
El enfoque teórico socio-jurídico actual de la vulnerabilidad y de los individuos, grupos y poblaciones vulnerables es complejo y amplio. A diferencia de otras categorías tradicionales de "grupos vulnerables", las dimensiones específicas de la vulnerabilidad migrante plantean cuestiones que no han sido debidamente resueltas por la ley, las políticas o las interpretaciones judiciales. Este documento pretende abordar y explicar las razones subyacentes a la neta distinción categórica en el ámbito jurídico entre quiénes migran: migrantes "voluntarios" (económicos, indocumentados), y migrantes forzados (solicitantes de asilo, refugiados), en función de su presunta "vulnerabilidad" interna o externa. También revisa la legislación europea en materia de asilo para analizar la compleja clasificación de la vulnerabilidad de los solicitantes de asilo/refugiados. Ello puede ayudar a explicar por qué algunas "categorías especialmente vulnerables" en situaciones compuestas de vulnerabilidad interseccional corren el riesgo de quedar desapercibidas. Es urgente reevaluar las categorías bivalentes y las dimensiones compactas de la vulnerabilidad migrante, para encontrar una coherencia interna equilibrada en las leyes que gestionan procesos migratorios heterogéneos.
Available from: https://doi.org/10.35295/osls.iisl/0000-0000-0000-1225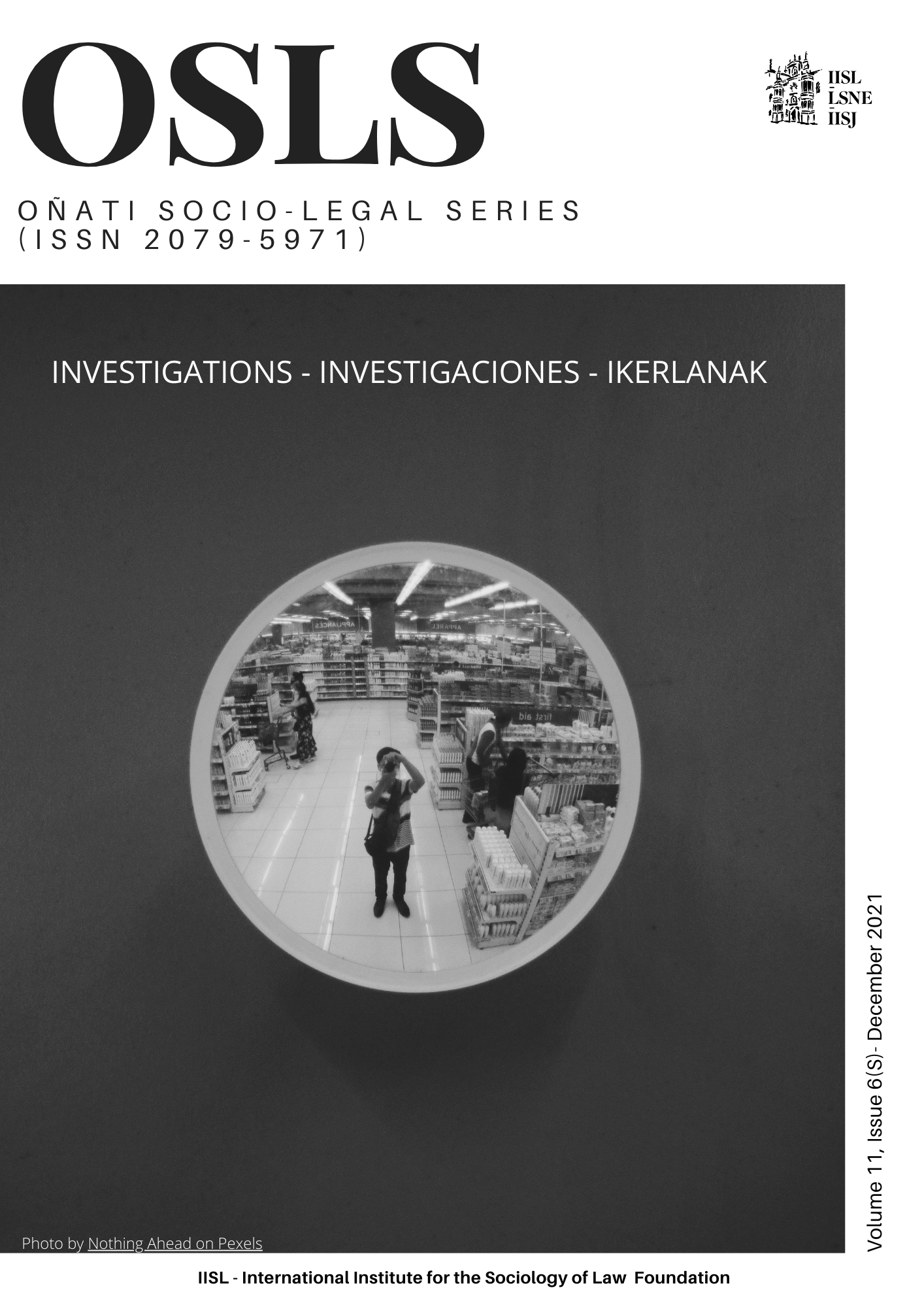 Downloads
Published
30-09-2021 — Updated on 22-12-2021
How to Cite
La Spina, E. (2021) "Migrant vulnerability or asylum seeker/refugee vulnerability? More than complex categories", Oñati Socio-Legal Series, 11(6(S), pp. S82-S115. Available at: https://opo.iisj.net/index.php/osls/article/view/1307 (Accessed: 23 May 2022).
Section
Individual Articles
License
Copyright (c) 2021 Encarnación La Spina
This work is licensed under a Creative Commons Attribution-NonCommercial-NoDerivatives 4.0 International License.
OSLS strictly respects intellectual property rights and it is our policy that the author retains copyright, and articles are made available under a Creative Commons licence. The Creative Commons Non-Commercial Attribution No-Derivatives licence is our default licence, further details available at https://creativecommons.org/licenses/by-nc-nd/4.0 If this is not acceptable to you, please contact us.
The non-exclusive permission you grant to us includes the rights to disseminate the bibliographic details of the article, including the abstract supplied by you, and to authorise others, including bibliographic databases, indexing and contents alerting services, to copy and communicate these details.
For information on how to share and store your own article at each stage of production from submission to final publication, please read our Self-Archiving and Sharing policy.
The Copyright Notice showing the author and co-authors, and the Creative Commons license will be displayed on the article, and you must agree to this as part of the submission process. Please ensure that all co-authors are properly attributed and that they understand and accept these terms.