La maternidad de las mujeres privadas de libertad en Cuba: Reflexiones sociológicas y jurídicas desde una perspectiva de género
(Motherhood of women deprived of freedom in Cuba: Sociological and legal reflections from a gender perspective in Cuba)
Keywords:
Maternidad, prisión, género, infancia, motherhood, prison, gender, childhood
Abstract
Los estudios sobre la maternidad en prisión develan una especial tipicidad meritoria de nuevas epistemologías sociales que rebasen el abordaje jurídico y el ámbito penitenciario. El artículo tiene el objetivo de valorar el ejercicio de la maternidad de las mujeres privadas de libertad desde una perspectiva sociológica y jurídica que permita su redimensionamiento hacia un adecuado enfoque de género y una efectiva protección del interés superior del menor, a partir de las experiencias prácticas, políticas públicas e institucionales del sistema penitenciario cubano. A tales fines se define la maternidad desde las dimensiones biológica y sociocultural, entendida como hecho jurídico. Se analiza la protección internacional específica desde las Reglas Mandela y las Reglas de Bangkok. Se caracteriza el contexto cubano y el correlativo español, en tanto ambos comparten la triple estigmatización femenina y ameritan reflexionar sobre la función social de las cárceles en el tratamiento de la maternidad y la infancia encarceladas.
Studies on maternity in prison reveal a special meritorious form of new social epistemologies that go beyond the legal approach and the prison environment. The article aims to assess the exercise of motherhood by women deprived of liberty from a sociological and legal perspective that allows its resizing towards an adequate gender approach and an effective protection of the best interests of the children, based on the practical experiences, institutional and public policies of the Cuban prison system. For these purposes, motherhood is defined from the biological and sociocultural dimensions, understood as a legal fact. Specific international protection is analyzed from the Mandela Rules and the Bangkok Rules. The Cuban context and the Spanish correlative are characterized, as both share the triple stigmatization of women and merit reflection on the social role of prisons in the treatment of incarcerated motherhood and childhood.
Available from: https://doi.org/10.35295/osls.iisl/0000-0000-0000-1229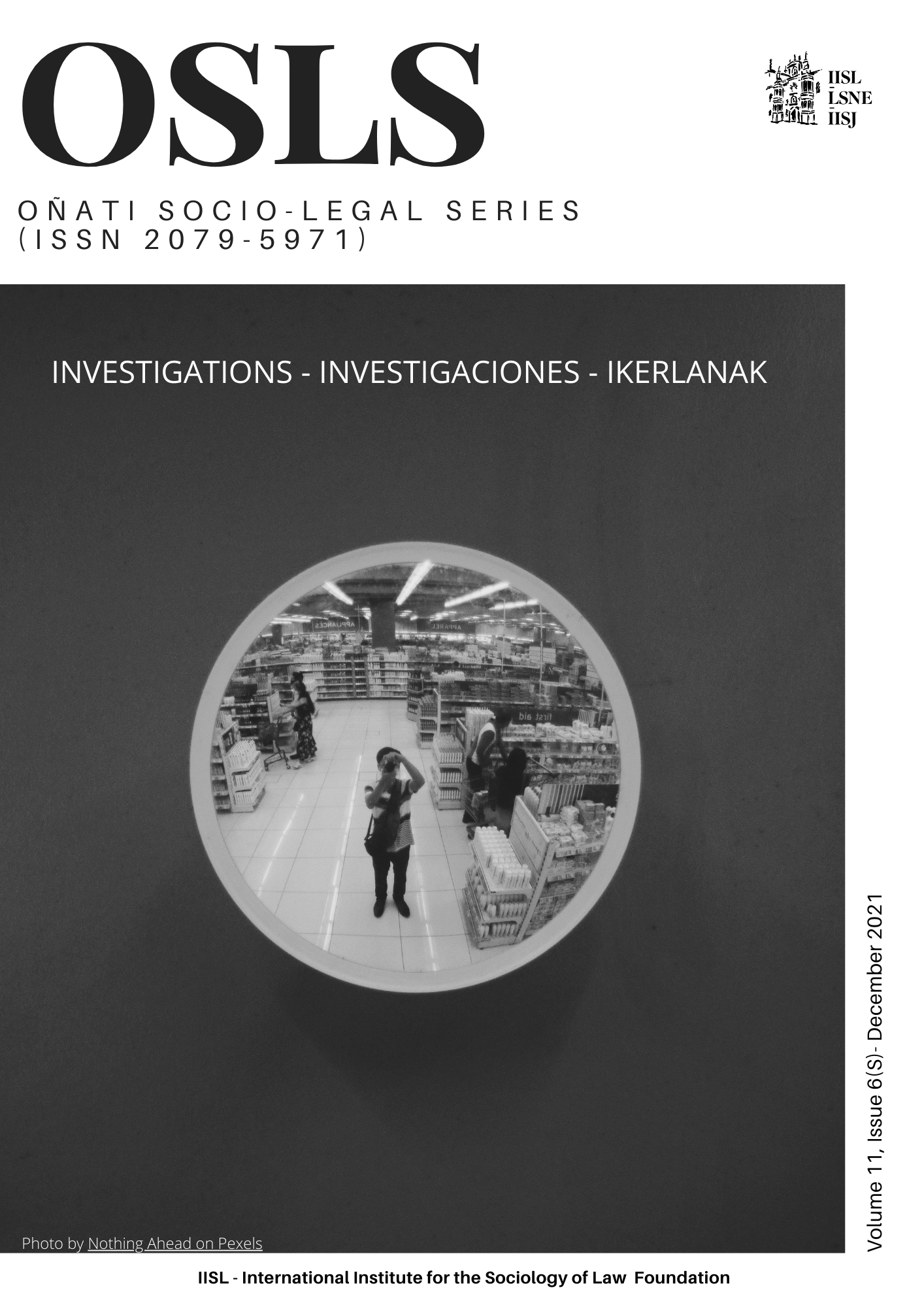 Published
30-09-2021 — Updated on 22-12-2021
How to Cite
Torres Rodríguez, L. and Páez Cuba, L. D. (2021) "La maternidad de las mujeres privadas de libertad en Cuba: Reflexiones sociológicas y jurídicas desde una perspectiva de género : (Motherhood of women deprived of freedom in Cuba: Sociological and legal reflections from a gender perspective in Cuba)", Oñati Socio-Legal Series, 11(6(S), pp. S21-S47. Available at: https://opo.iisj.net/index.php/osls/article/view/1300 (Accessed: 10 August 2022).
Section
Individual Articles
License
Copyright (c) 2021 Laidiana Torres Rodríguez, Lisett D. Páez Cuba
This work is licensed under a Creative Commons Attribution-NonCommercial-NoDerivatives 4.0 International License.
OSLS strictly respects intellectual property rights and it is our policy that the author retains copyright, and articles are made available under a Creative Commons licence. The Creative Commons Non-Commercial Attribution No-Derivatives licence is our default licence, further details available at https://creativecommons.org/licenses/by-nc-nd/4.0 If this is not acceptable to you, please contact us.
The non-exclusive permission you grant to us includes the rights to disseminate the bibliographic details of the article, including the abstract supplied by you, and to authorise others, including bibliographic databases, indexing and contents alerting services, to copy and communicate these details.
For information on how to share and store your own article at each stage of production from submission to final publication, please read our Self-Archiving and Sharing policy.
The Copyright Notice showing the author and co-authors, and the Creative Commons license will be displayed on the article, and you must agree to this as part of the submission process. Please ensure that all co-authors are properly attributed and that they understand and accept these terms.