Imagens e autorrepresentações dos procuradores da república sobre a persecução penal da corrupção
(Images and self-representations of the federal prosecutors concerning the criminal prosecution of corruption)
Keywords:
Representações sociais, persecução penal, corrupção, delitos econômicos, MPF, Social representations, criminal prosecution, corruption, economic crimes, federal prosecution office
Abstract
O objetivo deste artigo é analisar as representações sociais dos procuradores da República sobre a persecução penal em casos de corrupção e delitos econômicos no sistema de justiça federal no Brasil. O texto orienta-se pelos seguintes questionamentos: como os procuradores avaliam a investigação criminal dos crimes econômicos e corrupção? Como representam o inquérito policial como procedimento investigatório? No relatório de pesquisa foi possível compreender distintas visões dos atores envolvidos e as práticas da persecução penal da corrupção dos delitos econômicos. Questões organizacionais relacionadas à gestão de recursos escassos, tanto humanos quanto materiais, a definição de prioridades internas, as interações entre as unidades e a definição da unidade de atuação mediante critérios construídos pelas câmaras de coordenação e revisão. Ao final, o percurso exterioriza imagens e autorrepresentações dos sujeitos da pesquisa sobre a persecução penal.
This article intends to analyze the social representations of the federal prosecutors concerning the investigation of corruption and economic crimes in the Brazilian federal justice system. The text is guided by the following questions: how do federal prosecutors assess the criminal investigation of corruption and economic crimes? How do they represent the inquérito policial as an investigative procedure? In the research report we described many applicable interrogations concerning the visions of the actors involved and the practices of the penal prosecution, such as organizational topics and the managing of the resources, both human and material, and the definition of priorities and the interactions between different units. Finally, the itinerary evidences images and self-representations of prosecutors concerning the criminal prosecution.
Available from: https://doi.org/10.35295/osls.iisl/0000-0000-0000-1199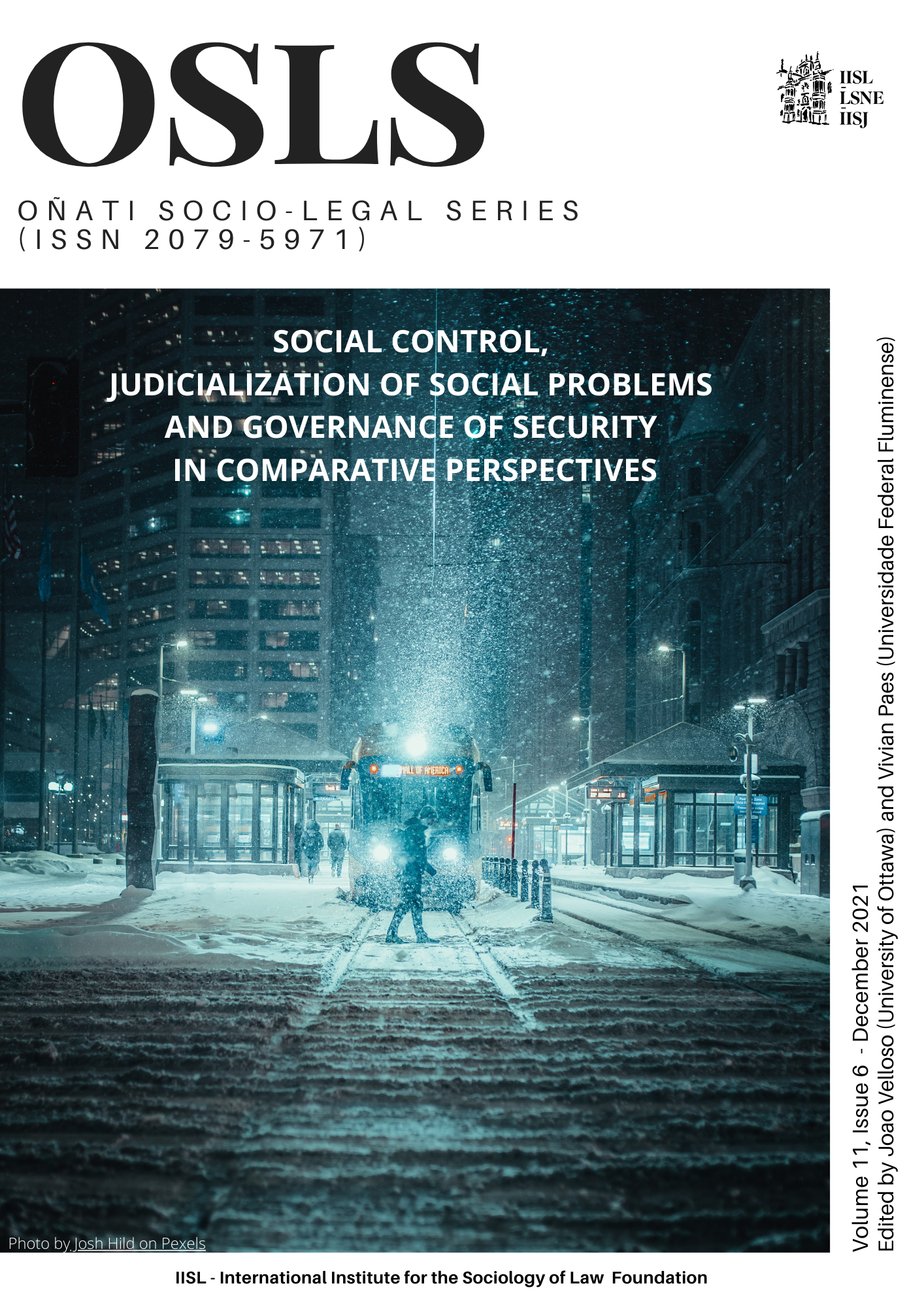 Downloads
Published
04-06-2021 — Updated on 01-12-2021
How to Cite
Machado, B. A. (2021) "Imagens e autorrepresentações dos procuradores da república sobre a persecução penal da corrupção: (Images and self-representations of the federal prosecutors concerning the criminal prosecution of corruption)", Oñati Socio-Legal Series, 11(6), pp. 1436–1462. Available at: https://opo.iisj.net/index.php/osls/article/view/1279 (Accessed: 30 November 2022).
Section
Individual Articles
License
Copyright (c) 2021 Bruno Amaral Machado
This work is licensed under a Creative Commons Attribution-NonCommercial-NoDerivatives 4.0 International License.
OSLS strictly respects intellectual property rights and it is our policy that the author retains copyright, and articles are made available under a Creative Commons licence. The Creative Commons Non-Commercial Attribution No-Derivatives licence is our default licence, further details available at https://creativecommons.org/licenses/by-nc-nd/4.0 If this is not acceptable to you, please contact us.
The non-exclusive permission you grant to us includes the rights to disseminate the bibliographic details of the article, including the abstract supplied by you, and to authorise others, including bibliographic databases, indexing and contents alerting services, to copy and communicate these details.
For information on how to share and store your own article at each stage of production from submission to final publication, please read our Self-Archiving and Sharing policy.
The Copyright Notice showing the author and co-authors, and the Creative Commons license will be displayed on the article, and you must agree to this as part of the submission process. Please ensure that all co-authors are properly attributed and that they understand and accept these terms.