Non-criminal murders: A sociological essay about the use of self-defence in Argentina
Keywords:
Self-defence, prohibition of murder, individual life, private property, Argentinean criminal system, legítima defensa, prohibición de matar, vida individual, propiedad privada, justicia penal de Buenos Aires
Abstract
This article seeks to examine the use of the figure of self-defence in the practices of the Buenos Aires criminal justice system. As we will show with the analysis of some paradigmatic cases, through the use of this exceptional figure, this criminal justice system produces certain murders as non-criminal acts to, paradoxically, safeguard individual life as a hegemonic value. Moreover, we will observe that the use of this legal figure reveals that killings to protect private property may not have a criminal character either. This in turn suggests that private property is also a hegemonic value for this criminal justice system, and that the allegedly supremacy of individual life over private property in its value scale should be at least questioned.
Este artículo se propone examinar el uso de la figura de la legítima defensa en las prácticas de la justicia penal de Buenos Aires. Como mostraremos con el análisis de algunos casos paradigmáticos, a través del uso de esta figura de excepción, esta justicia penal produce ciertas muertes como actos no-criminales a fin de, paradójicamente, proteger la vida individual como valor hegemónico. Asimismo, veremos que el uso de esta figura jurídica revela que ciertos asesinatos para proteger la propiedad privada pueden no tener tampoco un carácter criminal. Esto a su vez sugiere que la propiedad privada es también un valor hegemónico para esta justicia penal, y que la pretendida supremacía de la vida individual sobre la propiedad privada en su escala de valores debe ser, al menos, cuestionada.
Available from: https://doi.org/10.35295/osls.iisl/0000-0000-0000-1224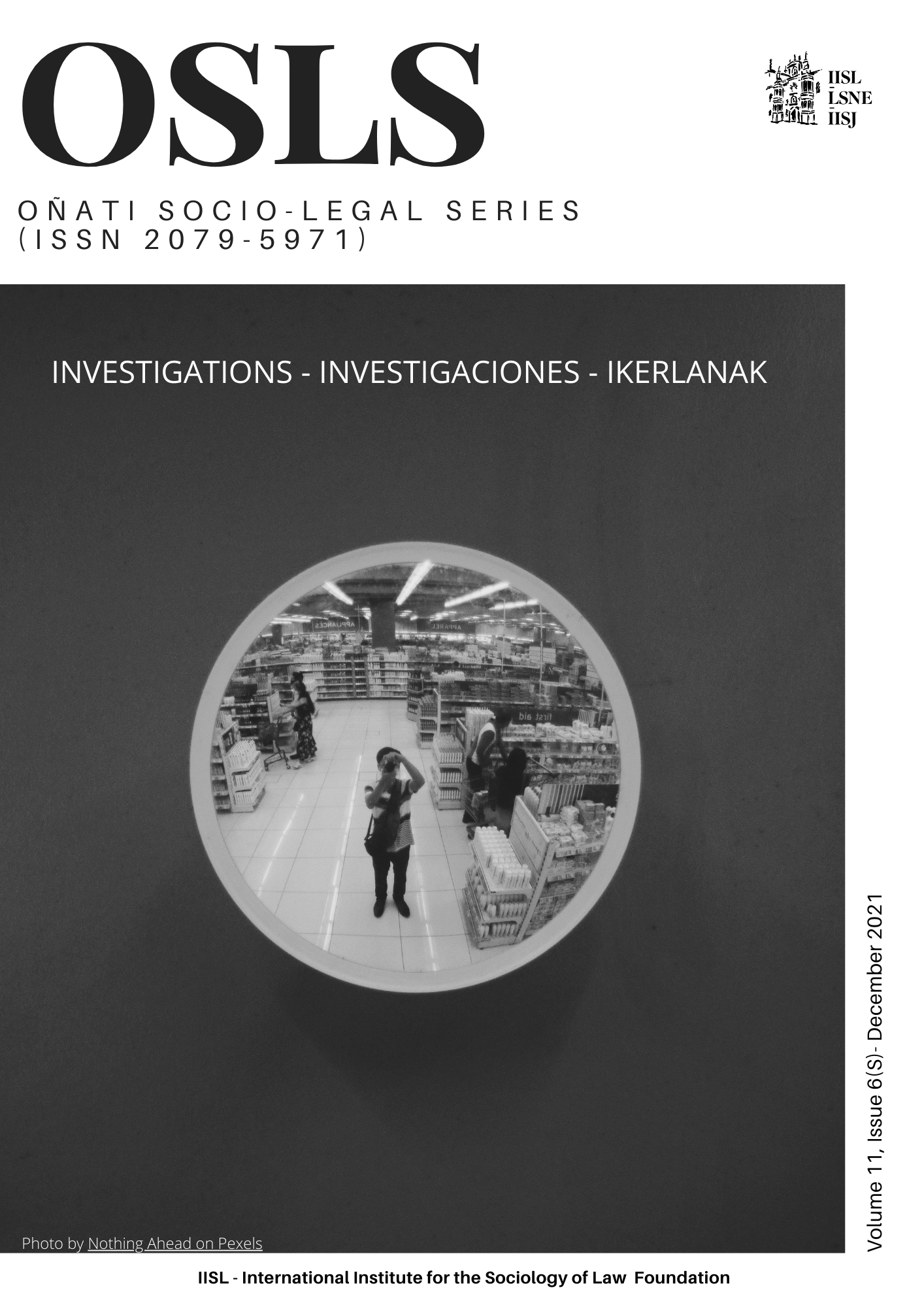 Published
30-09-2021 — Updated on 22-12-2021
How to Cite
Lassalle, M. (2021) "Non-criminal murders: A sociological essay about the use of self-defence in Argentina", Oñati Socio-Legal Series, 11(6(S), pp. S1-S20. Available at: https://opo.iisj.net/index.php/osls/article/view/1267 (Accessed: 5 October 2022).
Section
Individual Articles
License
Copyright (c) 2021 Martina Lassalle
This work is licensed under a Creative Commons Attribution-NonCommercial-NoDerivatives 4.0 International License.
OSLS strictly respects intellectual property rights and it is our policy that the author retains copyright, and articles are made available under a Creative Commons licence. The Creative Commons Non-Commercial Attribution No-Derivatives licence is our default licence, further details available at https://creativecommons.org/licenses/by-nc-nd/4.0 If this is not acceptable to you, please contact us.
The non-exclusive permission you grant to us includes the rights to disseminate the bibliographic details of the article, including the abstract supplied by you, and to authorise others, including bibliographic databases, indexing and contents alerting services, to copy and communicate these details.
For information on how to share and store your own article at each stage of production from submission to final publication, please read our Self-Archiving and Sharing policy.
The Copyright Notice showing the author and co-authors, and the Creative Commons license will be displayed on the article, and you must agree to this as part of the submission process. Please ensure that all co-authors are properly attributed and that they understand and accept these terms.