Police performance and violent crime in Rio de Janeiro between 2007 and 2017
Keywords:
Performance-related pay policies, Integrated Targets System (SIM), Rio de Janeiro, Remuneración por desempeño, Sistema Integrado de Metas (SIM), Río de Janeiro
Abstract
Performance-related pay policies applied to the Police have been implemented in Brazil and Latin America since the 2000s in an attempt to reduce the main violent crime indicators. The Integrated Targets System (Sistema Integrado de Metas - SIM), the Pacifying Police Units (Unidades de Polícia Pacificadora - UPP) and the Additional Service Regime (Regime Adicional de Serviço - RAS), initiated in the state of Rio de Janeiro in 2009, sought to reduce "strategic state crime indicators" whose results are monitored by the civil police report data. In order to understand how these policies have been implemented in the state of Rio de Janeiro between 2007 and 2017, the study adopts a quantitative approach upon criminal analysis and a qualitative one based on interviews and field observation at civil police stations and military police battalions.
Las políticas salariales relacionadas con la gestión por desempeño aplicadas a la policía se han implementado en Brasil y América Latina desde la década de 2000, en un intento por reducir los principales indicadores de delitos violentos. El Sistema Integrado de Metas (SIM), las Unidades de Policía Pacificadora (UPP) y el Régimen de Servicios Adicionales (RAS), iniciados en el estado de Río de Janeiro en 2009, han buscado reducir los "indicadores estratégicos de crímenes" (IEC), cuyos resultados se monitorean por datos reportados a la Policía Civil. Para comprender cómo se implementaron estas políticas en el estado de Río de Janeiro entre 2007 y 2017, el estudio adopta un enfoque cuantitativo de análisis criminal y uno cualitativo basado en entrevistas y observaciones de campo en comisarías de la Policía Civil y batallones de la Policía Militar.
Available from: https://doi.org/10.35295/osls.iisl/0000-0000-0000-1242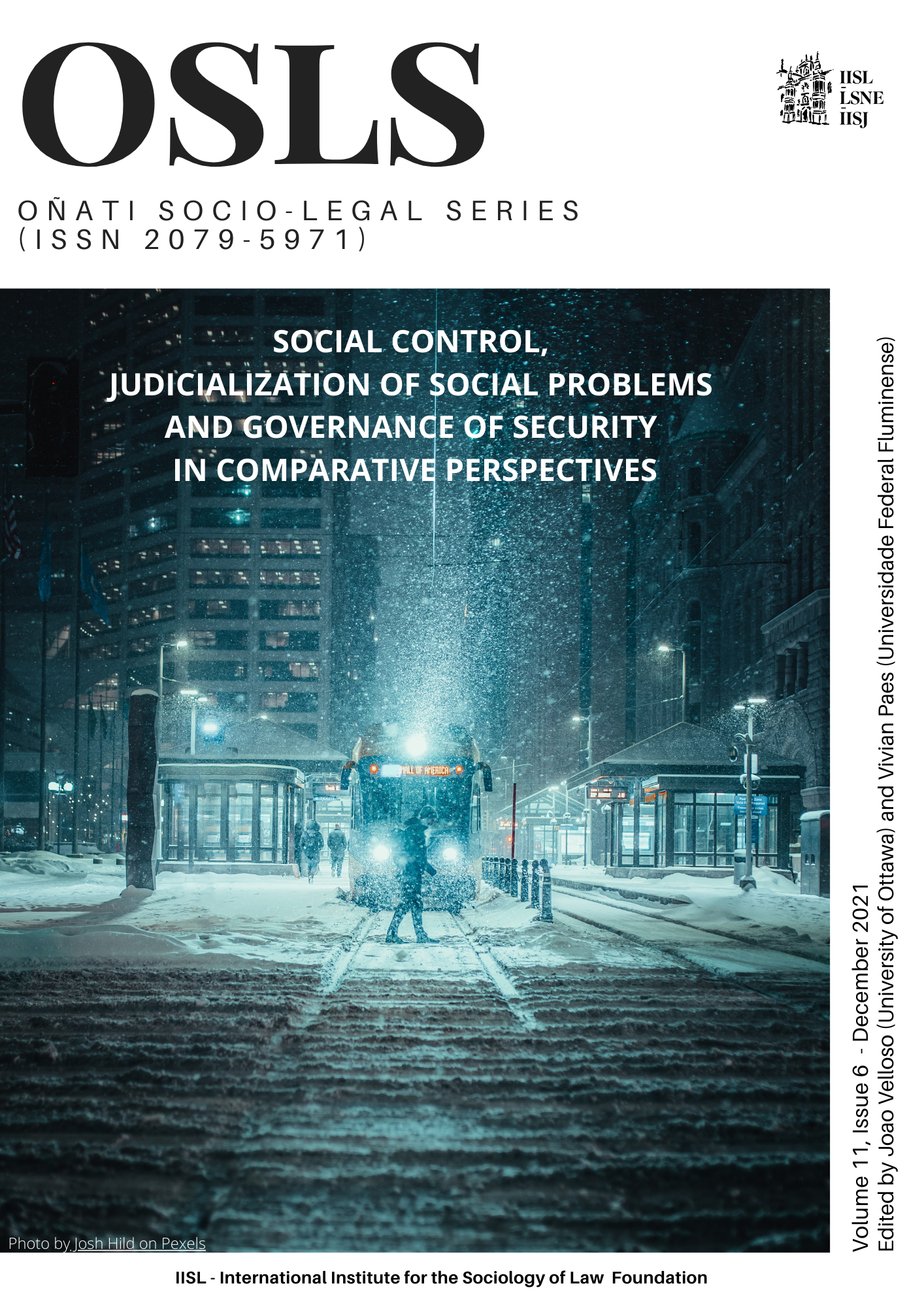 Downloads
How to Cite
Misse, D. G. (2021) "Police performance and violent crime in Rio de Janeiro between 2007 and 2017", Oñati Socio-Legal Series, 11(6), pp. 1392–1412. Available at: https://opo.iisj.net/index.php/osls/article/view/1231 (Accessed: 30 November 2022).
Section
Thematic Articles
License
Copyright (c) 2021 Daniel Ganem Misse
This work is licensed under a Creative Commons Attribution-NonCommercial-NoDerivatives 4.0 International License.
OSLS strictly respects intellectual property rights and it is our policy that the author retains copyright, and articles are made available under a Creative Commons licence. The Creative Commons Non-Commercial Attribution No-Derivatives licence is our default licence, further details available at https://creativecommons.org/licenses/by-nc-nd/4.0 If this is not acceptable to you, please contact us.
The non-exclusive permission you grant to us includes the rights to disseminate the bibliographic details of the article, including the abstract supplied by you, and to authorise others, including bibliographic databases, indexing and contents alerting services, to copy and communicate these details.
For information on how to share and store your own article at each stage of production from submission to final publication, please read our Self-Archiving and Sharing policy.
The Copyright Notice showing the author and co-authors, and the Creative Commons license will be displayed on the article, and you must agree to this as part of the submission process. Please ensure that all co-authors are properly attributed and that they understand and accept these terms.