Regulating social spaces of everyday life: The bottom-up codification of a behavioural norm in a Dutch municipal bylaw
Keywords:
Juridification, social control, public space, lawmaking, juridificación, control social, espacio público, legislación
Abstract
The utopian ideal of public space promotes it as the material manifestation of a freely accessible realm in which diverse social entities engage with one another to discuss, debate and form an inclusive society. In reality, access to and participation in public space is restricted for various factions of society. In the regulation of public space formal law plays a large, albeit not exclusive, role. Intrinsically formal law is presumed to come from above and beyond, and technically law is indeed emanated top-down by legislative authorities. The initiative to law however can originate from elsewhere. The case study presented here offers an example of law being enterprised from within, as a bottom-up strategy to claim dominance over a shared space and an attempt to block access to competing factions. Law then is wielded as a vertical power strategy between citizens, in which government has to struggle not to be reduced to an instrument in the hands of the elite. The case narrates the attempt of residents to have a municipal ban on using cannabis installed on a small inner-city playground in Amsterdam. This article aims to contribute to literature on juridification of social relations, the production of space and the making of law.
El ideal utópico del espacio público promueve éste como la manifestación material de un territorio de acceso libre en el cual entidades sociales diversas interactúan para debatir y formar una sociedad inclusiva. En la realidad, el acceso y la participación en el espacio público están restringidos para varias facciones de la sociedad. El derecho formal desempeña un rol considerable, aunque no exclusivo, a la hora de regular el espacio público. Este artículo explora los intentos de los residentes de conseguir una prohibición municipal sobre el uso del cannabis en un pequeño parque de juegos de Amsterdam, constituyendo un ejemplo de iniciativa para utilizar el derecho como estrategia de dirección ascendente para reclamar una dominación sobre un espacio compartido. Al utilizarse el derecho administrativo como estrategia de poder entre ciudadanos, el gobierno debe hacer un esfuerzo para no verse reducido a mero instrumento en manos de la élite. El artículo intenta hacer una aportación a la literatura sobre la juridificación de las relaciones sociales, la producción del espacio y la creación de derecho.
Available from: https://doi.org/10.35295/osls.iisl/0000-0000-0000-1196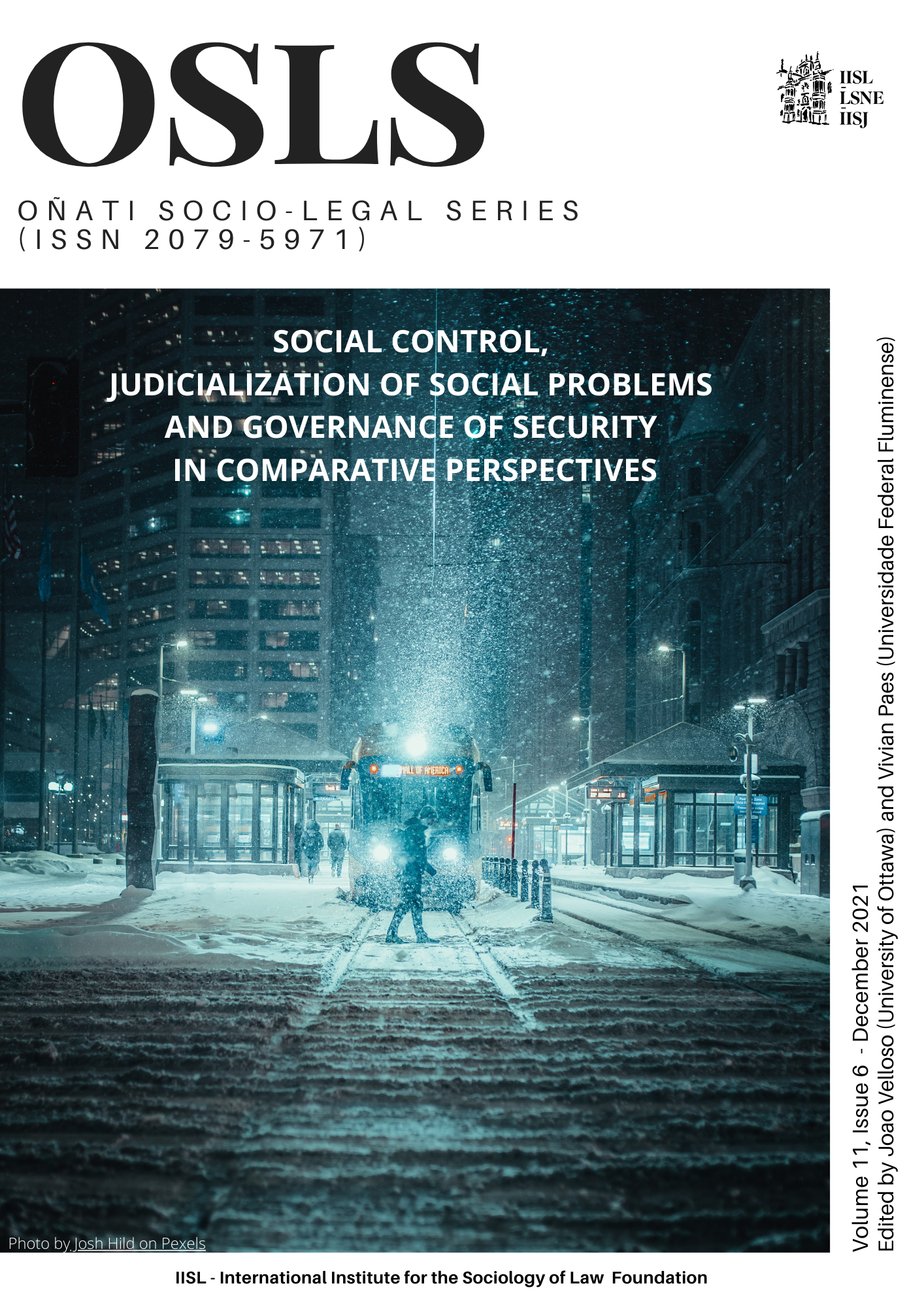 Published
01-12-2021 — Updated on 01-12-2021
How to Cite
Chevalier, D. (2021) "Regulating social spaces of everyday life: The bottom-up codification of a behavioural norm in a Dutch municipal bylaw", Oñati Socio-Legal Series, 11(6), pp. 1311–1329. Available at: https://opo.iisj.net/index.php/osls/article/view/1228 (Accessed: 1 October 2023).
Section
Thematic Articles
License
Copyright (c) 2021 Danielle Chevalier
This work is licensed under a Creative Commons Attribution-NonCommercial-NoDerivatives 4.0 International License.
OSLS strictly respects intellectual property rights and it is our policy that the author retains copyright, and articles are made available under a Creative Commons licence. The Creative Commons Non-Commercial Attribution No-Derivatives licence is our default licence, further details available at https://creativecommons.org/licenses/by-nc-nd/4.0 If this is not acceptable to you, please contact us.
The non-exclusive permission you grant to us includes the rights to disseminate the bibliographic details of the article, including the abstract supplied by you, and to authorise others, including bibliographic databases, indexing and contents alerting services, to copy and communicate these details.
For information on how to share and store your own article at each stage of production from submission to final publication, please read our Self-Archiving and Sharing policy.
The Copyright Notice showing the author and co-authors, and the Creative Commons license will be displayed on the article, and you must agree to this as part of the submission process. Please ensure that all co-authors are properly attributed and that they understand and accept these terms.